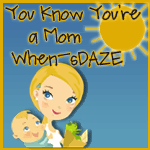 You know you're a mom when...
you have to flush the toilet 10 times a day and you barely had the time to go once yourself.
you did 5 loads of laundry and there is still laundry left to do.
after having knee surgery you can't find your crutches because someone has been playing with them.
you tell everyone at the hospital that you are nervous about your surgery because you have four kids at home.