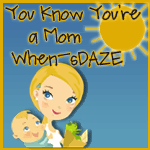 You know you are a mom when...
you have more white wash cloths that are blood stained than not; due to all the bloody noses, boo-boos, and fat lips.
you know where every ER and urgent care are within a 25 mile radius and the rating the hospital received in several different areas.
you know a child that has attempted to shave.
you have seen a child run into a wall and thought 'oh no concussion, then upon seeing the blood think no; stitches'.
you have told the triage nurse to just throw out the towel.