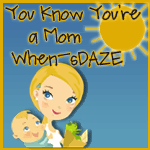 You know you are a mom when...
there is a smell coming from the back seat.
you know where every children's museum is within a 50 mile radius of your destination in case of rain.
a rest stop consists of a visit to Hershey's Chocolate World.
you can't see out of the back window of the minivan because trash is piled up so high.
you have to ask before you pull out of the garage if everyone is wearing shoes.
you have invested in a pair of ear plugs to wear while traveling on long car trips.
you have an emergency stash of organic lollipops in your glove box and Goldfish in the trunk.
that rattling coming from the back of the car is a sippy cup full of old milk.
your car looks more like an elementary school lost and found than a motor vehicle.