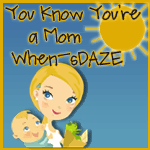 After sitting on the couch all week with my knee surgery, I have had a lot of time to think so today I am just going to focus on life in general as a mom.
You know your a mom when...
you have a toddler screaming in your eye while trying to talk on your cell phone because he wants to play traffic rush on the phone.
you spend half the day researching preschool programs while recovering from knee surgery because that is the only time you have sat down in over 12 months!
you are surrounded by all sorts of electronic devices while laid up so you can organize play dates, grocery shop, keep the family calendar in check, set up family get togethers, make your niece's birthday invitations, and research just about anything necessary.
your favorite segment on the Today show is about healthy food alternatives for families on the go.
you realize that your longing to just sit and relax is not all it is cracked up to be and you would rather just run after the kids and do laundry!